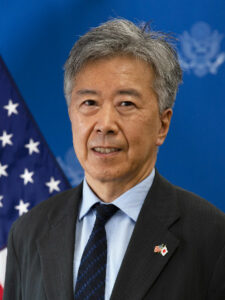 Richard Mei, Jr. joined the foreign service in 1987 and while working at the US Embassy in Tokyo in 2000, he resigned to work for Merrill Lynch Japan as their communications director. He rejoined the State Department in 2002 and was promoted to the senior foreign service in 2016.
A career public diplomacy (PD) officer, he has served in that capacity in Japan (three times), Burma, Bulgaria, Serbia, Kosovo, Kenya, Brazil, and the Bureau of Educational and Cultural Affairs (Fulbright program). Besides living in Tokyo, Nagoya, and Fukuoka, he has travelled to all of Japan's 47 prefectures.
Working in Osaka-Kobe marks a return to the region where, as a Mombusho English Fellow (present day Japan Exchange and Teaching Program), his unofficial PD career began in 1981. Richard is a native New Yorker, worked as an Assistant to NYC Mayor Ed Koch, and graduated from the University of Massachusetts, Amherst, and Columbia University.