Deputy Chief of Mission Nicholas M. Hill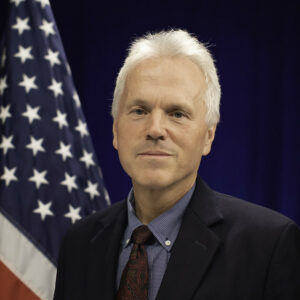 A member of the Senior Foreign Service, Nicholas M. Hill serves as the Deputy Chief of Mission for Embassy Tokyo.
Before serving as Acting Deputy Chief of Mission from July 2019 to June 2020, he served as Minister Counselor for Economic and Science Affairs in Mission Tokyo. Prior to Tokyo, Mr. Hill served as Deputy Chief of Mission and Chargé d'Affaires at the U.S. Embassy in Sarajevo (2012-15) and Deputy Chief of Mission in Ulaanbaatar (2008-11). Other overseas assignments include Tokyo (2005-08), Zagreb (2001-04), Budapest (1999-2000), Belgrade (1996-99), and Montreal (1986-88). He also served at the U.S. Mission to the United Nations in New York (1989-91).
Mr. Hill holds a B.A. in History and Economics from Bowdoin College, a Master's in International Relations from George Washington University, and a Master's in Security Studies from the National War College in Washington, D.C.